LIN slave for relay and DC motor control (gen3)
MLX81160
Melexis
The MLX81160 is a LIN pre-driver IC for relay DC motors applications like window regulators. It offers high power and 48 KB memory (LIN protocol and 32 KB for the application) in a compact QFN24 package (4mm x 4mm)
Read more
Top features
Motor driver

6x Driver for external relays, or 6x Pre-Driver for external PN-FET half-bridges up to 30nC with 6x PWM

Microcontroller

MLX16-FX, application CPU

MLX4, communication CPU

Programmable digital watch-dog

Interrupt controller

Common purpose timer

Memories split per CPU

MLX16-FX memories:

32 KB Flash with ECC

10 KB ROM

2 KB RAM

512 B EEPROM

MLX4 memories:

Fast end-of-line programming via LIN pin (32kB Flash in < 2.5sec)

Compatible SW for motor IC family

MLX81160: 48 KB PN-FET driver

MLX81344: 90 KB NN-FET driver

Periphery

Configurable RC-clock 12MHz to 32MHz

12x general purpose IO's, up to 9x high-voltage analog inputs, 2x UART, SPI, I2C-slave

6x 16-bit motor PWM timers

2x 16-bit timers

12-bit ADC with < 1.2μs conversion time with 32 channels

2x Differential current sense amplifier with 8-bit programmable overcurrent

Temperature sensor, over-temperature detection

Over-current detection, over-voltage and under-voltage protection

Voltage regulators

Internal voltage regulators, directly powered from 12V battery supply

IC operating motor voltage VSM = 5.5V to 32V* (*operating voltage up to 38V limited to 24h over lifetime)

Operating voltage VS = 5.5V to 32V* (*operating voltage up to 38V limited to 24h over lifetime)

Operation down to 3.5V with reduced analog characteristics, down to 3.0V without losing register content, down to 1.6V with intact RAM memory

Low standby current consumption of typ 25μA in sleep mode

Wake-up possible via LIN, external pins or internal wake-up timer

Bus interface

LIN 2.x/SAE J2602 and ISO17987-4 compliant LIN slave

Package QFN24 4x4 WF

Automotive AEC-Q100 qualified

Designed for safety applications according to ASIL B (ISO 26262)

Maximum IC temperature (with validated mission profile) Tj = 175°C
Discover all features
LIN slave for relay and DC motor control (gen3) -
MLX81160
The MLX81160 is a LIN pre-driver IC for relay DC motors applications.
It offers 48 KB memory (16 KB for the included LIN protocol and 32 KB for the application software) in a compact QFN24 package (4 mm x 4 mm).
By leveraging high-voltage silicon-on-isolator (SOI) technology, this LIN-based pre-driver exhibits operational robustness for 12 and 24 V applications.
The MLX81160 incorporates all the essential functional elements for motor driving within a single chip. These include a LIN interface, an embedded microcontroller unit, 6x PWM drivers, 3x high-voltage I/Os and more…
Extra I/Os allow connecting a dedicated 4-wire latch for motor indexing.
On top of enabling performance improvements and reducing costs, and having the smallest dimensions, the MLX81160 also includes faster programmability (with 32 KB Flash completed in <2.5sec) and ASIL B functional safety capabilities. In addition, the dual current sensing feature permits ripple counting and the driving of multiple DC motors.
Typical actuator applications
DC Window Lift, Sunroof with Relays or PN-MOSFETs
DC/BLDC pump or fan with PWM-drive and PN-MOSFETs
Multiple small DC motors with PN-MOSFETs
For engineering development, the MLX universal master (MUM) can be used to program and interface the IC. For production, third-party equipment & SW must be used.
Contact your local representative for more information.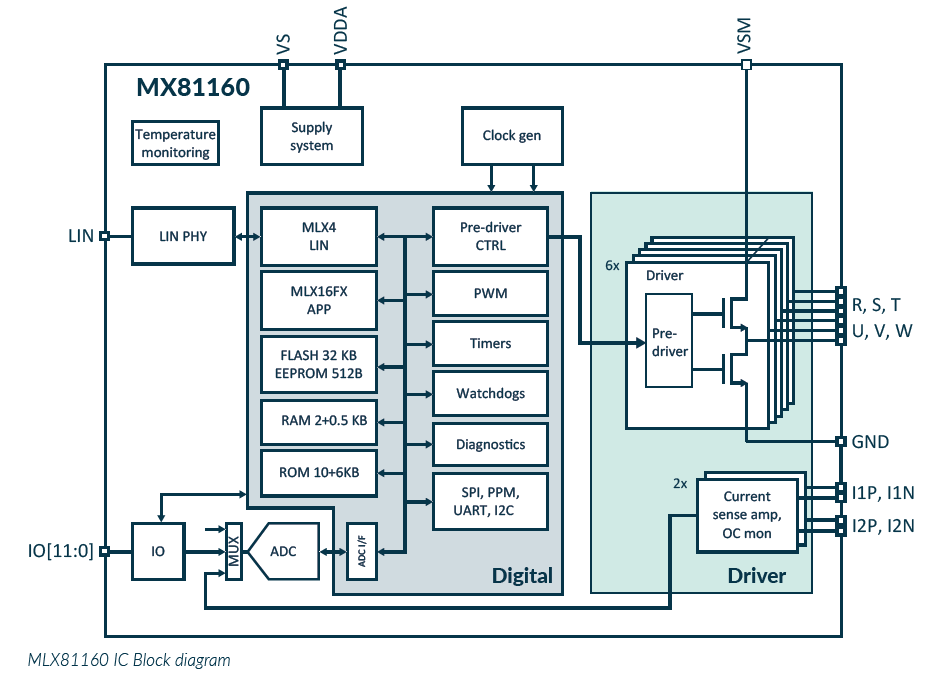 Motor driver

6x Driver for external relays, or 6x Pre-Driver for external PN-FET half-bridges up to 30nC with 6x PWM

Microcontroller

MLX16-FX, application CPU

MLX4, communication CPU

Programmable digital watch-dog

Interrupt controller

Common purpose timer

Memories split per CPU

MLX16-FX memories:

32 KB Flash with ECC

10 KB ROM

2 KB RAM

512 B EEPROM

MLX4 memories:

Fast end-of-line programming via LIN pin (32kB Flash in < 2.5sec)

Compatible SW for motor IC family

MLX81160: 48 KB PN-FET driver

MLX81344: 90 KB NN-FET driver

Periphery

Configurable RC-clock 12MHz to 32MHz

12x general purpose IO's, up to 9x high-voltage analog inputs, 2x UART, SPI, I2C-slave

6x 16-bit motor PWM timers

2x 16-bit timers

12-bit ADC with < 1.2μs conversion time with 32 channels

2x Differential current sense amplifier with 8-bit programmable overcurrent

Temperature sensor, over-temperature detection

Over-current detection, over-voltage and under-voltage protection

Voltage regulators

Internal voltage regulators, directly powered from 12V battery supply

IC operating motor voltage VSM = 5.5V to 32V* (*operating voltage up to 38V limited to 24h over lifetime)

Operating voltage VS = 5.5V to 32V* (*operating voltage up to 38V limited to 24h over lifetime)

Operation down to 3.5V with reduced analog characteristics, down to 3.0V without losing register content, down to 1.6V with intact RAM memory

Low standby current consumption of typ 25μA in sleep mode

Wake-up possible via LIN, external pins or internal wake-up timer

Bus interface

LIN 2.x/SAE J2602 and ISO17987-4 compliant LIN slave

Package QFN24 4x4 WF

Automotive AEC-Q100 qualified

Designed for safety applications according to ASIL B (ISO 26262)

Maximum IC temperature (with validated mission profile) Tj = 175°C