Smart LIN pre-driver for DC and BLDC motors <500W
MLX81340
Melexis
The MLX81340 is a gen-3 LIN pre-driver for DC & BLDC motors targeting automotive mechatronic applications up to 500 W.
MLX81340: standard memory (58 KB)
MLX81344: extended memory (90 KB)
Read more
Top features
LIN Motor driver

3x PreDriver for DC or BLDC motor

Up to 60nC NFETs (500W motors)

300 mApk typ. charge current

500 mApk typ. discharge current

charge-pump for top-NFETs

VDS protection for all NFETs

Microcontroller

MLX16-FX, application CPU

MLX4, communication CPU

Programmable digital watch-dog

Interrupt controller

Common purpose timer

Memories split per CPU

MLX16-FX memories:

MLX81340: 32 KB Flash with ECC

MLX81344: 64 KB Flash with ECC

20 KB ROM

MLX81340: 2 KB RAM

MLX81344: 4 KB RAM

576 B EEPROM

MLX4 memories:

Fast end-of-line programming via LIN pin (64 KB Flash in < 4sec)

Pin-compatible family in QFN24 or QFN32

MLX81340: 58KB Flash+ROM

MLX81344: 90KB Flash+ROM

Periphery

Configurable RC-clock 12..32MHz

12x general purpose IO's, digital, analog, 3x high-voltage IO's, 2x UART, SPI, I2C-slave

5x 16-bit motor PWM timers

2x 16-bit timers

12-bit ADC with < 1.2μs conversion time with 29 channels

Differential current sense amplifier with 8-bit programmable overcurrent

Temperature sensor, over-temperature detection

Over-current detection, over-voltage and under-voltage protection

Voltage regulators

IC operating motor voltage VSM = 5.5V to 32V* (*operating voltage up to 36V limited to 24h over lifetime)

Operating voltage VS = 5.5V to 32V* (*operating voltage up to 36V limited to 24h over lifetime)

Internal voltage regulators, directly powered from VS supply

Operation down to 3.5V with reduced analog characteristics, down to 3.0V without losing register content, down to 1.6V with intact RAM memory

Low standby current consumption of typ 25μA in sleep mode

Wake-up possible via LIN, external pins or internal wake-up timer

Bus interface

LIN 2.x/SAE J2602 and ISO17987-4 compliant LIN slave

Automotive AEC-Q100 qualified

Designed for safety applications according to ASIL-B (ISO 26262)

Maximum IC temperature (with validated mission profile) Tj = 175°C
Discover all features
Smart LIN pre-driver for DC and BLDC motors <500W -
MLX81340
The MLX81340 is a gen-3 LIN pre-driver for motors targeting automotive mechatronic applications up to 500 W.
This all-in-one LIN pre-driver enables small-footprint applications to control DC and BLDC motors, and support sensored or sensorless field-oriented control (FOC) algorithms.
The MLX81340 and MLX81344 (extended memory) pre-driver are well suited for
DC/BLDC HVAC Blowers, Fans, Pumps
DC/BLDC Valves, WindowLift, Seat, Sunroof...
For engineering development, the MLX universal master (MUM) can be used to program and interface the IC. For production, third-party equipment & SW must be used.
Contact your local representative for more information.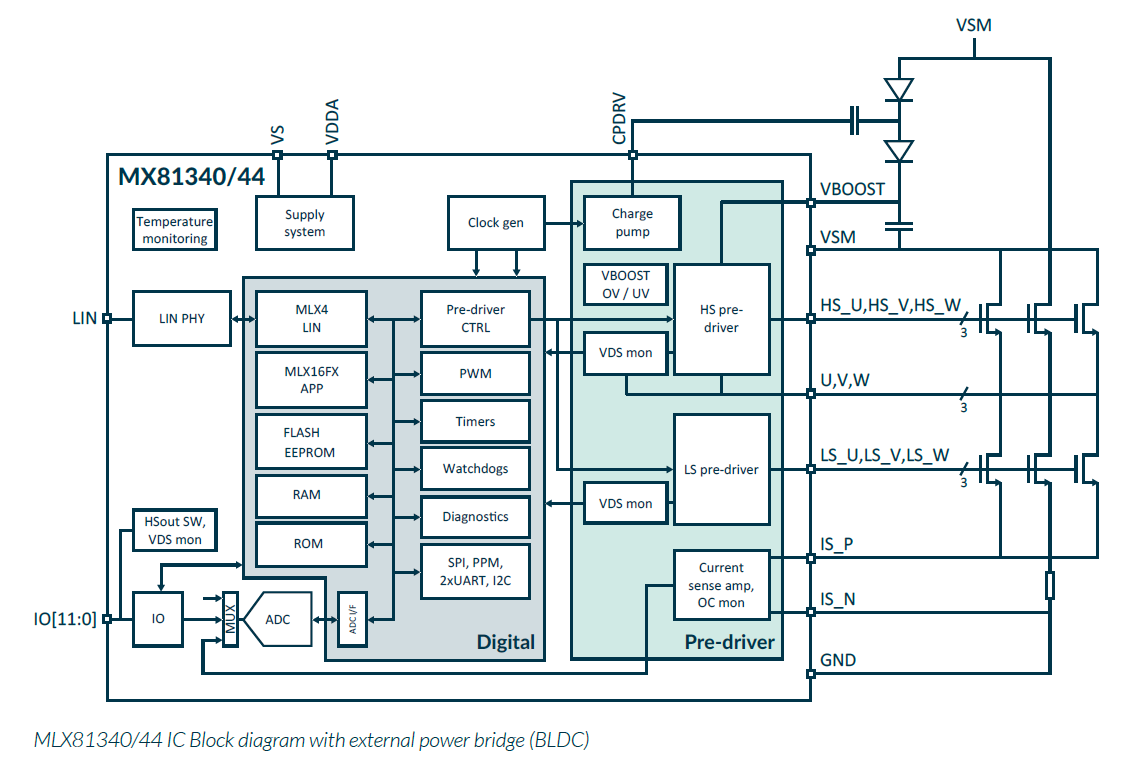 LIN Motor driver

3x PreDriver for DC or BLDC motor

Up to 60nC NFETs (500W motors)

300 mApk typ. charge current

500 mApk typ. discharge current

charge-pump for top-NFETs

VDS protection for all NFETs

Microcontroller

MLX16-FX, application CPU

MLX4, communication CPU

Programmable digital watch-dog

Interrupt controller

Common purpose timer

Memories split per CPU

MLX16-FX memories:

MLX81340: 32 KB Flash with ECC

MLX81344: 64 KB Flash with ECC

20 KB ROM

MLX81340: 2 KB RAM

MLX81344: 4 KB RAM

576 B EEPROM

MLX4 memories:

Fast end-of-line programming via LIN pin (64 KB Flash in < 4sec)

Pin-compatible family in QFN24 or QFN32

MLX81340: 58KB Flash+ROM

MLX81344: 90KB Flash+ROM

Periphery

Configurable RC-clock 12..32MHz

12x general purpose IO's, digital, analog, 3x high-voltage IO's, 2x UART, SPI, I2C-slave

5x 16-bit motor PWM timers

2x 16-bit timers

12-bit ADC with < 1.2μs conversion time with 29 channels

Differential current sense amplifier with 8-bit programmable overcurrent

Temperature sensor, over-temperature detection

Over-current detection, over-voltage and under-voltage protection

Voltage regulators

IC operating motor voltage VSM = 5.5V to 32V* (*operating voltage up to 36V limited to 24h over lifetime)

Operating voltage VS = 5.5V to 32V* (*operating voltage up to 36V limited to 24h over lifetime)

Internal voltage regulators, directly powered from VS supply

Operation down to 3.5V with reduced analog characteristics, down to 3.0V without losing register content, down to 1.6V with intact RAM memory

Low standby current consumption of typ 25μA in sleep mode

Wake-up possible via LIN, external pins or internal wake-up timer

Bus interface

LIN 2.x/SAE J2602 and ISO17987-4 compliant LIN slave

Automotive AEC-Q100 qualified

Designed for safety applications according to ASIL-B (ISO 26262)

Maximum IC temperature (with validated mission profile) Tj = 175°C