Magnetic Latch and Switch: Experience matters
By Dieter Verstreken, Melexis
As our world becomes more technology-driven and automated, the role of basic sensors becomes ever more important. More and more systems, including vehicles, household white goods and industrial installations rely on sensing to operate correctly and safely.

Improving the safety of vehicle occupants receives ever greater emphasis. Automotive engineers are therefore deploying sensing devices that deliver increased sophistication, raise performance benchmarks and which meet a multitude of different design and integration requirements. For the humble sensor this means that they must be easy to specify and use, they must be small, low power and light as well as being low cost.
Engineers are seeking out companies that can show a long history in serving and understanding the market as well as an innovative approach to solving the problems of today - and tomorrow.
Latch and switch devices rely on the principles of the Hall-effect to, through the position of a magnet, determine the physical position of an object. These on-off switching devices are very common in automotive applications such as braking, shifter applications, door locks or seat belts. However, they are equally valuable to ensure the door of a washing machine is closed, BLDC motor commutation or ensuring that a safety interlock is in place on an industrial machine.
Melexis was founded more than 30 years ago. During its early years the company was developing a general-purpose product line based upon CMOS technology and their pioneering work on TSOT packaging.
In 1997, Melexis acquired US MicroChip; the fusion of IC know-how and Hall-effect technology spawned a product range that is now in its third generation and has shipped billions of these units into safety-critical applications across the globe. Decisions taken in 1993 to focus on CMOS technology and TSOT packaging are just as valid today as they were then.
Second-generation development was started in 2009 with the goal of delivering even greater performance and accuracy. By 2011, an EEPROM was integrated delivering unprecedented flexibility to the range where standard products are manufactured in millions.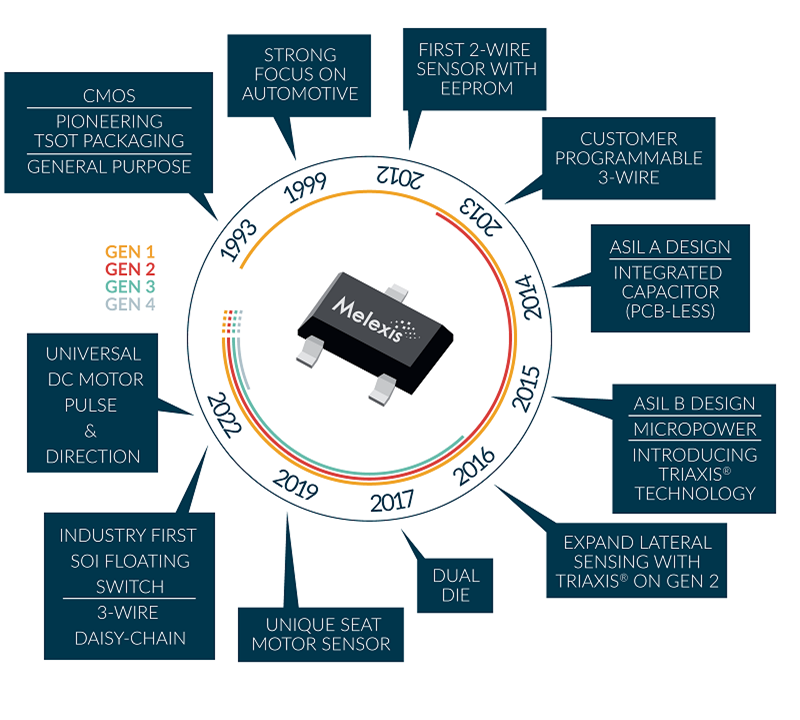 The integrated EEPROM allows key thresholds and compensation to be programmed into devices while on the production line, effectively delivering a custom solution without cost penalties. By programming compensation curves, the devices can be used effectively with low-cost magnets thereby lowering the total cost of the sensing solution.
The EEPROM programming enables high accuracy performance by programming the magnetic operating and release points (including temperature compensation) after packaging). The resulting flexibility allows customers to finetune the sensor settings based on the specific application parameters.
Shortly after, in 2012, the first 2-wire sensor (with EEPROM) was launched to the market. In 2013, Melexis then introduced a customer-programmable 3-wire design bringing flexibility to the field as well as the factory.
The first ASIL A ready design was launched in 2014. The high reliability solutions targets automotive applications and features an integrated capacitor for PCB-less installation in the tightest spaces - as often required in automotive use cases such as seat belt and transmission applications.
Decisions taken in 1993 to focus on CMOS technology and TSOT-packaging are just as valid today as they were then.
Just a year later, in 2015, ASIL B readiness was achieved and the first micropower devices that allow always-on sensing on vehicles without the risk of draining the battery were launched. Completing a year of significant steps, in 2015, Melexis introduced their Triaxis® technology on the latch and switch product line that offers a whole new way of sensing based upon proprietary Integrated Magnetic Concentrator (IMC) mechanism. The ability to sense lateral or orthogonal magnetic fields brings the potential to replace multiple devices with a single sensor saving valuable space and reducing BOM costs - which is allowing the customer to make small modules (thereby migrating from through-hole assembly to surface mount reflow).
2016 saw expanded lateral sensing on second generation devices, while dual die made their first appearance in 2017.
The application-specific flexibility throughout the broad product range makes Melexis the first choice when the need arises to upgrade legacy designs to the latest performance standards.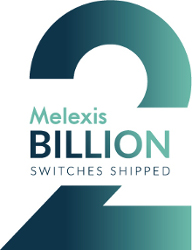 Melexis MLX92223 IC, designed for seat motor positioning in automotive applications, was introduced in the market early 2019. As automotive manufacturers increasingly adopt motorized seat adjustment, it becomes more necessary to accurately detect the position of the seat. The MLX92223 integrates the additional passive components normally needed to interface Hall-effect latches to ECUs. This level of integration removes the need for the sensor to be mounted on a PCB, which in turn enables smaller solutions, allowing OEMs to integrate latches and modules even where space is restricted, to further increase customer comfort and safety.
In 2022 the innovation continues with a revolutionary floating switch. Based on Hall-effect and SOI technology, the MLX92362 benefits from an isolated output. It only requires power to drive a load. Additionally, a built-in daisy chain functionality has been implemented in order to synchronize multiple ICs with the same 3-wire interface.
While inherently very basic devices, Melexis' extensive latch and switch range is continually developed to match and exceed the functional, flexibility, safety and power consumption needs of modern applications. Stay tuned, more is coming soon…