Chronoptics
Chronoptics specialize in Time-of-Flight 3D camera technology. We exist to simplify the design, manufacture and integration of 3D cameras into products for our partners, expertly tailoring fit-for-purpose modules to meet the demands of each unique application.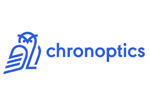 Tailored Camera Design
Chronoptics offers a complete tailored ToF camera design service, including hardware, optics, embedded depth processing, manufacturing integration and camera calibration. We deeply understand the complexities of ToF systems engineering, and how to optimize a solution for the target use case — balancing accuracy, size, precision, power, resolution and speed.
Depth Pipeline Technologies
Our patented depth pipeline computes clean, accurate and robust 3D data and can be adapted to suit a wide range of applications and operating conditions. We have clever platform agnostic algorithms for resolving multi-path interference, improving linearity, motion correction, robust camera calibration and optimized ToF filtering.
KEA 3D ToF Camera
The Chronoptics KEA 3D ToF camera is a flexible and modular development kit platform that is available for application testing and validation to accelerate your next 3D camera product development. KEA supports embedded depth and edge application layer processing.
Related article:
Features
Sensor: MLX75027
Resolution: VGA
Field of View: 80°
Distance: Up to 15m
FPS: 45 @ VGA, 120 @ QVGA
Ambient light immunity: 120 k lx
Interface: Gigabit Ethernet, USB 3.0
SDK: Visualiser; C, C++, Python, Matlab APIs