Melexis unveils a top notch magnetic position sensor for linear stroke

Tessenderlo, Belgium, 12 October 2023 – Melexis expands its popular MLX9042x series of 3D magnetic position sensing solutions with the MLX90423. This new device blends high accuracy for long strokes (up to 30mm), stray field immunity (SFI) and ISO26262 (supports up to ASIL D system integration). This cost-effective solution is ideal for automotive ADAS applications with space constraints such as braking systems (brake rod).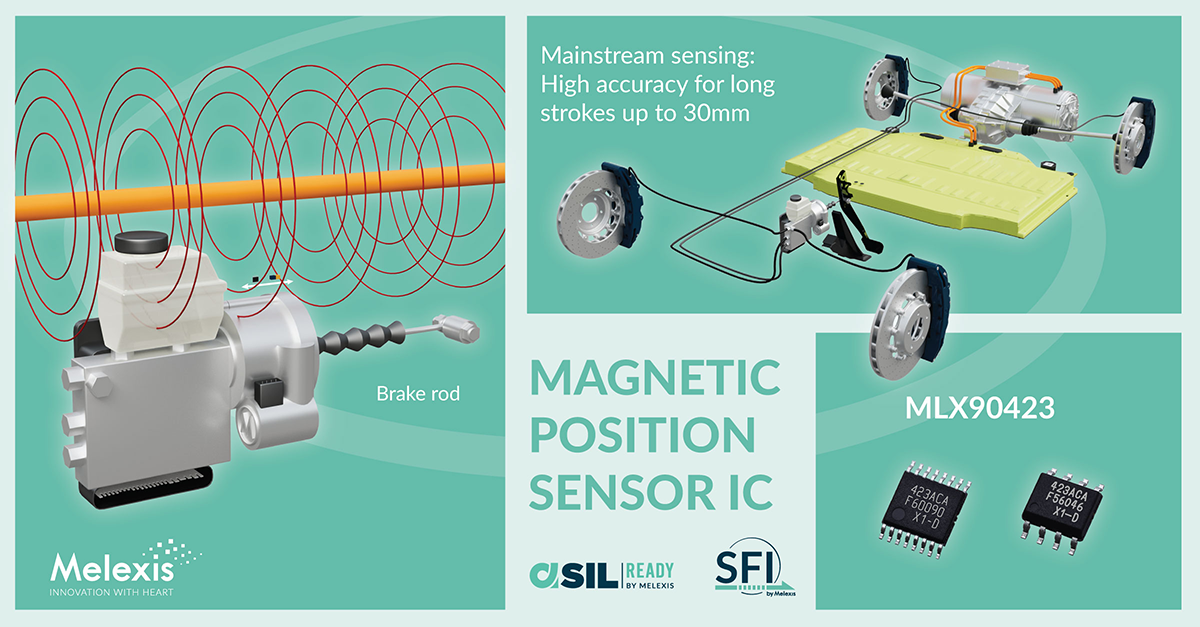 Incorporating Melexis Triaxis® Hall technology, the MLX90423 is dedicated to linear displacement (absolute linear) up to 30mm where stray field rejection is needed. This is normally only achievable with advanced inductive technology. The MLX90423 is a single die ASIL C as per ISO 26262 while dual die option is also available to support up to ASIL D system integration. It also inherits the superior capabilities of other members of the series in terms of absolute maximum ratings, electromagnetic compliance (EMC) characteristics and improved accuracy over the full thermal range.
The MLX90423 is a monolithic magnetic position processor IC. It consists of a Triaxis® Hall-based magnetic front end, an analog to digital signal conditioner, a DSP for advanced signal processing and a programmable output stage driver. By sensing the three components of the magnetic flux density applied to the ICs (Bx, By and Bz), the MLX90423 decodes the absolute position of a magnet moving linearly. This enables engineers to control applications such as brake rod travel, pedal position or park lock actuators among others.
The MLX90423 provides ratiometric analog output, PWM output or SENT frames encoded according to a Secure Sensor format. In accordance with ISO 11452-8, it is robust against magnetic stray field up to 5mT (4kA/m).
In common with other sensors of the MLX9042x series, the MLX90423 aims to ensure first-time-pass EMC testing, which keeps the design process efficient and the costs under control. High absolute maximum ratings (AMR), including reverse polarity, reduce the number of quality incidents due to electrical overstress and allow the achievement of various OEM requirements.
Melexis MLX9042x devices are designed for operational temperatures up to 160 °C.
All MLX9042x devices are fully AEC-Q100 qualified. They can be supplied in SMD packages or in SMP-3 PCB-less packages which integrate the sensor and EMC capacitors in a single mold.
"The MLX90423 is a future proof product which will serve ADAS, such as braking applications. Compared to other solutions for linear position sensing, it offers the best price performance ratio," said Karen Stinckens, Global Marketing Manager Position Sensors at Melexis.
Discover more at www.melexis.com/MLX90423 or contact us via www.melexis.com/contact.
---
Downloads