3D-magnetometer optimized for battery powered applications

Low power and wide voltage supply 3D magnetic field sensor IC enables maximum flexibility on the choice of the battery
Tessenderlo, Belgium, 9 June 2022 – Melexis introduced the MLX90397, a three-dimensional magnetometer for cost efficient position sensing. It features a wide supply voltage (1.7 to 3.6 V). This is ideally suited for battery powered appliances for both consumer and industrial applications.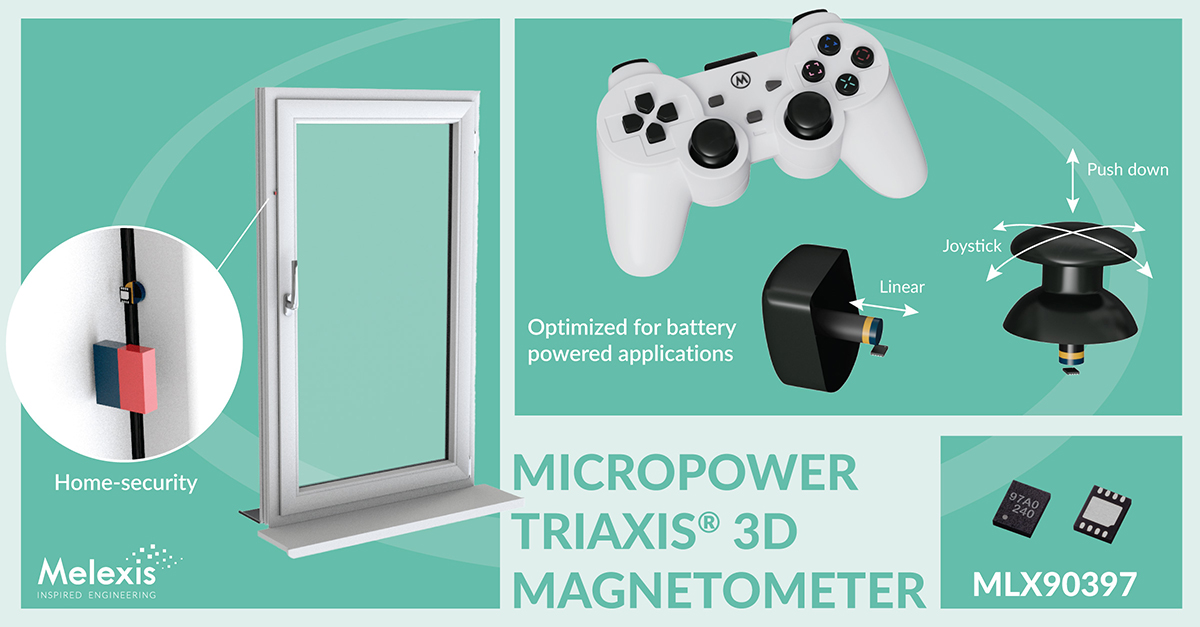 Melexis, a global microelectronics engineering company, introduces the MLX90397, a 16-bit 3-axis sensor device that has a magnetic field range reaching 50mT (with an adaptive range on the z-axis of up to 200mT). The user can choose the fields to measure among BX, BY, BZ, temperature or a combination. The sensing element relies on the proven Triaxis® 3D Hall effect technology. Captured data are converted into a digital form and then transferred over an I2C interface.
MLX90397 is designed to address 1.8/2.2/3.3V applications. The key benefits are:
The signal-to-noise (SNR) figures outperform other products on the market with a typical RMS noise of 2µT for a 50mT range.
The combination of a low 7nA power down current and a wide voltage supply range (1.7V to 3.6V) is ideal for battery powered applications. It not only provides maximum flexibility on the selection of the battery type (Alkaline, Lithium..), but also ensures an extended usage.
The adaptive Bz field range up to 200mT simplifies customer designing with a back bias magnet (e.g. joystick) as it removes the constraint on the saturation. Another benefit is the inclusion of a VddIO pin. It allows the customer to set the output at a different voltage level than the main supply. This feature avoids the need to place extra level shifters to interface with the µC. The MLX90397 comes in a compact surface-mount 8-pin UTDFN package, with a footprint of just 2.0mm x 2.5mm and a height of only 0.4mm. This makes the devices easy to integrate - even into highly space-constrained electronic designs. A supported operational temperature range of -40°C to 105°C allows the use in demanding industrial applications.
"The arrival of the MLX90397 completes our magnetometer portfolio to address micropower applications supplied from 1.8 V" explains Jerome Degois, Marketing Manager Position Sensor. "With outstanding SNR performances it facilitates the designer's need to compromise between both noise characteristics and power consumption. The MLX90397 is the magnetometer optimized for battery-powered applications."
Among the most prominent applications are handheld power tools, gaming consoles, computer peripherals, home automation systems (window/door opening detection), energy metering (for anti-tampering purposes) and the controls of domestic appliances.
More information at www.melexis.com/MLX90397
---
Downloads