Melexis introduces next generation of isolated integrated current sensors for automotive applications

All-in-one monolithic solution increases performance and lowers design complexity
Tessenderlo, Belgium, 7 December 2020 - Melexis, a global microelectronics engineering company, announces its second-generation of isolated integrated current sensors MLX91220 (5 V) and MLX91221 (3.3 V). The Hall-effect based current sensors are qualified for use in a range of automotive and industrial applications, such as on-board chargers (OBC), DC/DC converters, power supplies, and small electric drives. With 300 kHz bandwidth, they suit a variety of power conversion applications lower than 50 A RMS.
The MLX91220/21 builds on the first generation of current sensors, which integrated sensing elements and high accuracy signal conditioning with voltage isolation. The new generation current sensors, which are available in miniature SOIC8 narrow body and SOIC16 wide body packages, improve on this by increasing the bandwidth to 300 kHz, resulting in a response time of just 2 us. This response time supports higher switching frequencies and more accurate tracking in control loops.
The MLX91220 also improves the dual on-chip overcurrent detection (OCD) function, which enables essential monitoring mechanisms using both an internal and an external feature. The internal OCD threshold can be selected in or out-of-range, with a response time of 2 µs. The external OCD threshold can be set, through an external reference voltage, within or close to the output operating range, with a typical response time of 10 µs.
Both can be used in one application, to offer redundancy or detect separate conditions of short-circuit and out-of-scope.
The MLX91220 and MLX91221 offer output mode flexibility defined at Melexis factory trimming. Automotive applications typically prefer ratiometric analog output voltages, whereas industrial applications often rely on fixed sensitivity built around a reference voltage. The output mode is factory trimmed and selectable with intuitive product ordering codes.
Unlike most current sensors, the MLX91220/21 does not rely on ferromagnetic concentrators. Instead, it uses an internal differential sensing concept to detect the magnetic field that is generated by the integrated primary conductor. This differential concept also provides a high level of stray field immunity, enabling higher density power electronics, as the sensor is less affected by stray magnetic fields in close proximity.
The SOIC8 package is rated to 2.4 kVrms isolation as per IEC/UL-62368, and the SOIC16 wide body package doubles this to 4.8 kV rated isolation. The SOIC16 package also offers a lower primary conductor resistance, thanks to its higher pin count and increased conductor thickness. Both variants distinguish themselves from discrete shunt solutions by having lower resistivity, the SOIC16 scores 0.75 mOhm, while the SOIC8 measures 0.85 mOhm; significantly lower than shunt-based solutions.
The comprehensive feature integration and design flexibility offered by the MLX91220 and MLX91221 provide customers with a competitive advantage when looking to optimize performance using just one product. To help customers simplify design and benefit from new features, Melexis is continuously developing new technologies to enhance its existing current sensor offering.
Samples and a development kit are available now. Please contact Melexis or your local representative for more information.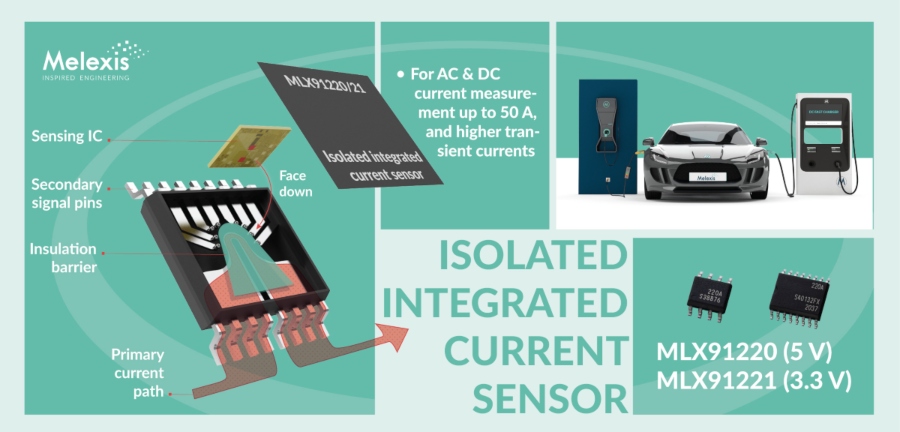 ---
Downloads