Melexis' all-in-one LIN motor driver cuts material costs in automotive mechatronic applications

Smartest ever fully integrated single-chip LIN motor driver reduces BoM and simplifies design of motor-controlled flaps, valves, small fans and pumps
Tessenderlo, Belgium, 1 December 2020 - Melexis, a global microelectronics engineering company, announces the third generation of its popular LIN driver for small motors targeting automotive mechatronic applications at up to 10 W, including motor-controlled flaps and valves, and small fans and pumps.
The Gen 3 MLX81330 (0.5 A motor drive) and MLX81332 (1.0 A motor drive) smart LIN drivers are based on high-voltage SOI (Silicon On Insulator) technology to deliver high levels of robustness and function density, combining analog and digital circuitry to create true single-chip solutions that are fully compliant with the industry standard LIN 2.x/SAE J2602 and ISO 17987-4 specifications for LIN slave nodes.
Along with an integrated motor driver, they feature extensive I/O capability and a dual microcontroller architecture. One core is dedicated to communications while the second microcontroller runs the application software.
With their 'all-in-one' approach to LIN slave design, the MLX81330 and MLX81332 enable a reduced Bill of Materials (BoM), smaller PCB, simpler product design and faster assembly. For example, the MLX81332 interfaces directly with an ECU and can drive up to four phases of a motor, with a maximum current of 1 A per phase, or two phases with a maximum current of 1.4 A. This means it can drive a 2-wire DC motor, 3-wire BLDC motor or 4-wire bipolar stepper motor, using either sensored or sensorless field-oriented control (FOC) algorithms.
The smart LIN drivers include 5x16-bit PWM timers, 2x16-bit timers and a 10bit ADC, along with a differential current sense amplifier and temperature sensors. Over-current, over-voltage and over-temperature detection/protection is also integrated. In addition to analog-ready I/O, they are able to interface to standard external sensors using protocols commonly used in automotive applications, such as SPI and SENT.
The integrated processing cores share a common on-chip memory architecture. The application core (MLX16-FX) has access to 32 KB Flash memory with ECC, 10 KB of ROM, 2 KB of RAM and 512 bytes of EEPROM with ECC. The communications processor (MLX4) can access 6 KB of ROM and 512 bytes of RAM.
The embedded motor controller ICs are designed for safety applications according to ASIL-B (ISO 26262).
The smart LIN drivers are provided with software that includes the LIN communication stack.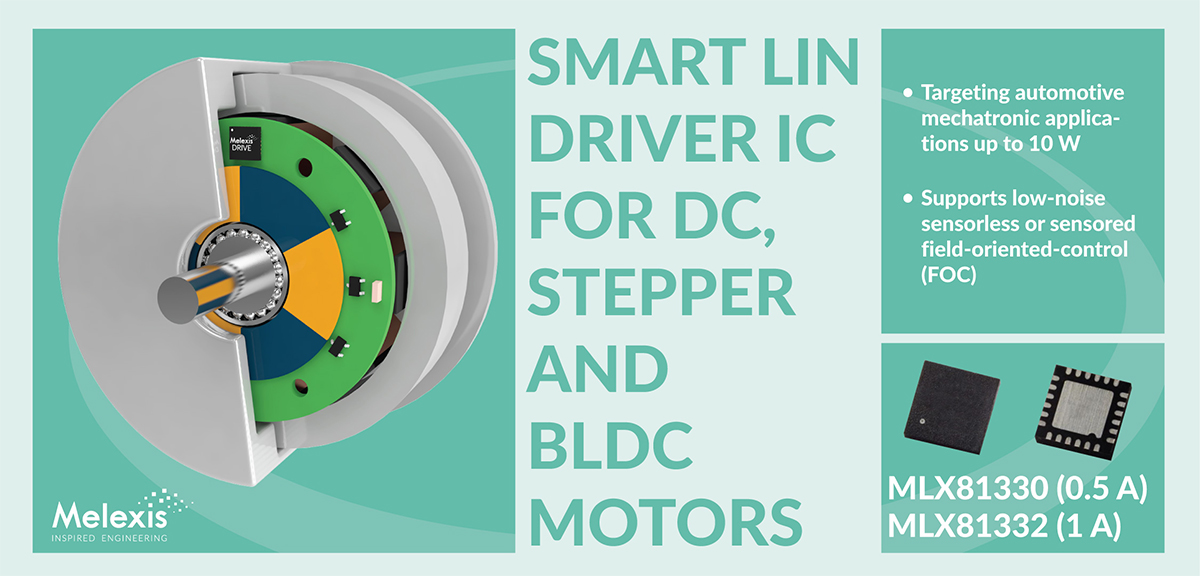 ---
Downloads