Giving senses to robots
We are developing single Integrated Circuit (IC) solutions which are Robot-Operating-System (ROS) compliant. They combine our expertise in magnetic sensing, signal conditioning, on-board diagnosis for functional safety, automotive quality solutions and advanced packages.
Triaxis® 3D magnetometer with
magneto-elastic shaft
Minimize footprint with higher integration
Avoid use of bulky coils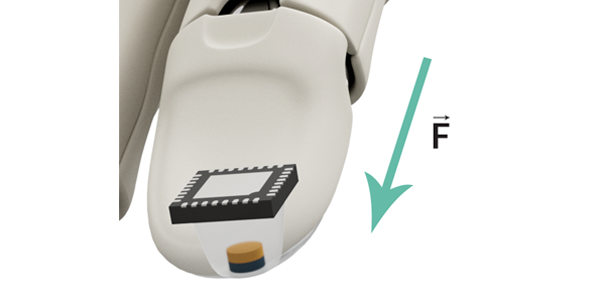 Triaxis® 3D magnetometer and
magnet embedded in an elastomer
3D force sensing
Soft contact surface
Scalable into array
Triaxis® position sensor and
multi-track magnet
On-chip calibration
Relaxed assembly tolerances
Mounted on hollow shaft
Torque
For industrial robots, cobots, exoskeletons who need to measure the torque applied on a shaft, Melexis brings a solution that is compact, stray-field immune and ideal for stiff shafts. Unlike other magneto-elasticity based systems, our innovation is fully integrated, cost effective and 3D field sensitive.
Force
For industrial robots and humanoids, who need the sense of touch to manipulate fragile objects, Melexis brings a tactile sensor. It is compact (5 mm x 5 mm x 5 mm), soft and provides the 3D force vector acting on the surface. Unlike optical tactile sensors using computer vision feedback, our force sensor is fully integrated and will be mass manufactured using semiconductor technology. It offers cost and reliability advantage.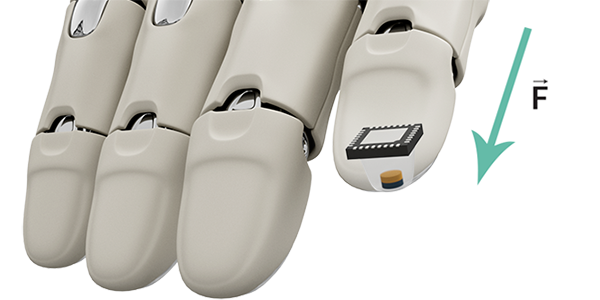 Read the press release
Position & speed
For industrial robots, cobots, exoskeletons who need a 16-bit resolution and 12-bit accuracy sensor for their joint control, Melexis' angular sensing solution offers on-chip calibration, speed measurement and system scalability. Unlike other dual magnetic track angular sensors, we ease assembly tolerances and reduces the overall Bill-of-Material (BOM).