Smart multi-channel RGB-LED controller with 16 drivers
MLX81117
Melexis
The MLX81117 is a multi-channel RGB-LED controller that enables high-speed light animations, extending the MeLiBu product family with a higher number of integrated LED drivers
Read more
Top features
MCU for extended LED control algorithm, color mixing and full diagnosis

Red/Green and Blue LED temperature compensation without additional external components

Color mixing accuracy of < 1% delta UV

16-bit color/intensity control

Storage of LED calibration data directly within LED driver

Low side programmable calibrated current sources for LED control

Direct LED drive without additional external components

LEDs fully diagnosable (Short circuit, broken line, threshold monitor)

MeLiBu® communication interface

Real-time update of > 250 RGB LEDs without delay

5.5 - 18 V supply voltage (40 V proof)

ASIL B classification

16 LED drivers

Memory


32 kB Flash

2 kB RAM

512 B EEPROM

System ROM

QFN32 5x5 package, 32 pins
Discover all features
Smart multi-channel RGB-LED controller with 16 drivers -
MLX81117
The MLX81117 is a fully integrated smart automotive LED driver with high-speed robust communication (MeLiBu®) between multiple LED drivers to enable applications with high RGB-LED counts for highly dynamic light animations within cars.
All necessary components needed for LED driving as well as communication are integrated and allow to develop powerful and cost-optimized animated light systems. The embedded intelligence allows a very high accuracy of the RGB color mixing as well as the support of ASIL B grade applications thanks to the MeLiBu® communication system. The MLX81117 extends the MeLiBu product family with a higher number of integrated LED drivers.
Key applications
Adaptive roof light
Highly animated light modules
Smart light bar
Advanced driver communication by light

Safety warning applications
Advanced navigation support
Blindspot warning
Evaluation kit and Software are available on request. Please contact Melexis for additional information.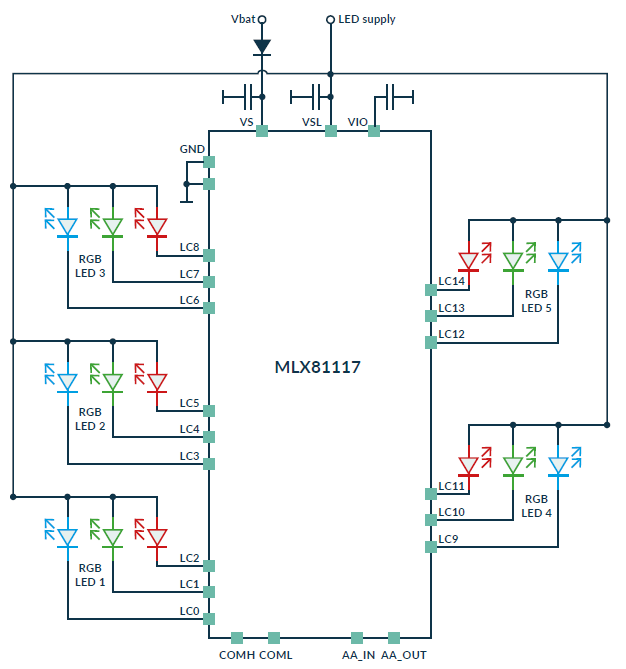 MCU for extended LED control algorithm, color mixing and full diagnosis

Red/Green and Blue LED temperature compensation without additional external components

Color mixing accuracy of < 1% delta UV

16-bit color/intensity control

Storage of LED calibration data directly within LED driver

Low side programmable calibrated current sources for LED control

Direct LED drive without additional external components

LEDs fully diagnosable (Short circuit, broken line, threshold monitor)

MeLiBu® communication interface

Real-time update of > 250 RGB LEDs without delay

5.5 - 18 V supply voltage (40 V proof)

ASIL B classification

16 LED drivers

Memory


32 kB Flash

2 kB RAM

512 B EEPROM

System ROM

QFN32 5x5 package, 32 pins
MeLiBu RGB/LED Driver for Automotive
Product
Discover MeLiBu - Melexis Light Bus - a high-speed low-BOM automotive robust communication system that enables applications with high RGB-LED counts for highly animated light animations within cars.