Melexis unveils the most accurate automotive pressure sensor ever made

PCB-less MEMS-based IC solution is factory calibrated and highly accurate with low drift over lifetime
Tessenderlo, Belgium, 17 November 2022 – Melexis has launched a new series of PCB-less pressure sensor ICs that deliver the highest degree of accuracy over lifetime. Thanks to this impressive performance the last generation of ICEs will become greener in all circumstances.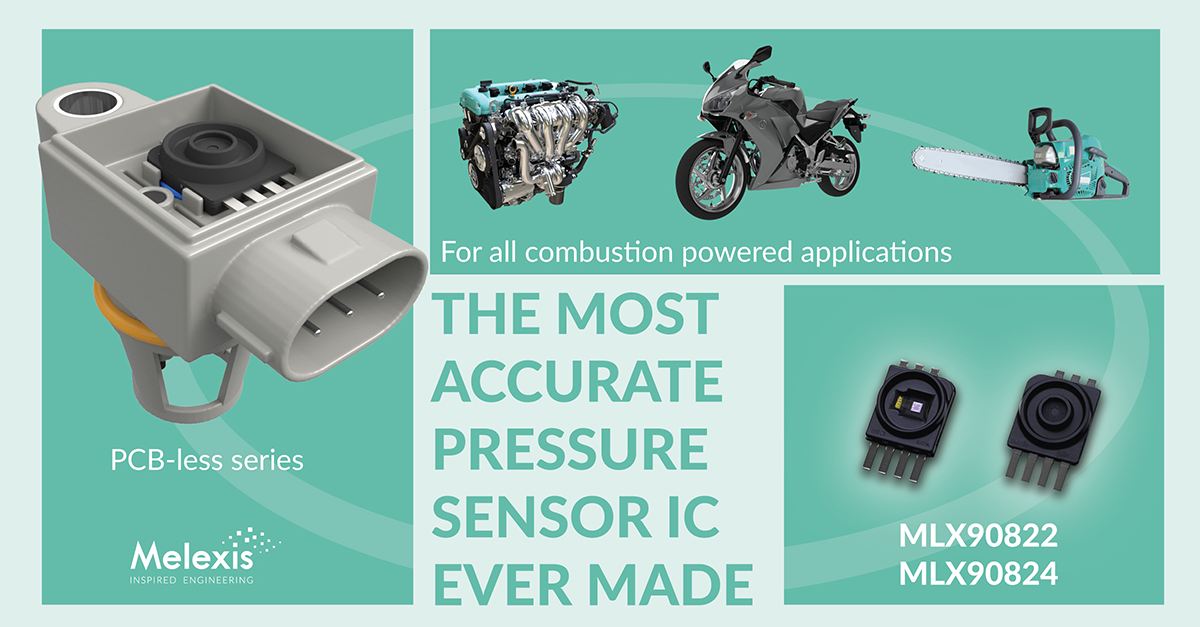 Melexis, a global microelectronics engineering company, introduces a new series of integrated pressure sensors. They are intended for use in automotive engine management. The MLX90824 determines the absolute pressure, then delivers a digital output signal using the SENT protocol whereas the brother product MLX90822 provides an analog output voltage. These factory calibrated devices measures pressure spans from 1 to 4 bar.
Laurent Otte, Senior Product Line Manager, explains why these sensors help Melexis customers:
An accuracy of +/-0.5 %FS (full scale) is maintained over the course of the sensor's working lifespan. This accuracy is not impacted by the sensor integration thanks to the PCB-less packaging.
Very accurate and stable pressure measurements allow optimal engine management to guarantee fuel savings and emission reductions.
The MLX90824 and MLX90822 consist of a sensor readout circuit, digital hardware, voltage regulators and SENT or analog output drivers, plus all the essential passive components. A pre-calibrated NTC thermistor (negative temperature coefficient) input is available for the MLX90824 (SENT output). This allows customers to interface their NTC through the pressure sensor without end-calibration. Superior overvoltage (+40 V) and reverse voltage (-40 V) protection mechanisms are incorporated. Thanks to this protection range, trucks benefit from this technology to get greener. These pressure sensors have an operating temperature range that spans from -40°C to 160°C. They can even be exposed to 170°C temperatures for a short period of time, supporting downsized engine architectures.
The MEMS, sensing element of the MLX90824 and MLX90822, consists of a micro-machined diaphragm. It is bonded around a cavity that has been etched into a silicon substrate. This cavity contains a reference vacuum. The diaphragm reacts to any change in the ambient absolute pressure. Piezo-resistive elements implanted into the diaphragm are configured to create a Wheatstone bridge that generates a signal. The accompanying front-end electronics subsequently amplify the signal and convert it into a digital format. The 16-bit Digital Signal Processing (DSP) undertakes temperature compensation. Finally the result is provided through a SENT or analog output.
The MLX90824 and MLX90822 have been developed as a Safety Element out of Context (SEooC) in accordance with ISO 26262. It supports ASIL B system integration for the MLX90824 and ASIL A for the MLX90822.
"Access to stable and accurate data on pressure as well as temperature enable long-term engine management across the full lifetime of vehicles. This positively influences fuel saving and emission reductions," states Karel Claesen, Product Manager Pressure Sensors. "The MLX90824 and MLX90822 are optimized for the latest engine designs and their new operating conditions."
Last but not least for motorcycles or any equipment running on small engines such as chainsaws, lawn mowers among others it is essential to have a sensor with a very fast update rate and step response. The MLX90822 addresses that need with an output step response 3 times faster than any other pressure sensor ever made by Melexis.
The MLX90824 and MLX90822 help OEMs with their constant battle to reduce emissions and counters high fuel prices by lowering fuel consumption. They make sure that cars, trucks and motorcycles will be compliant with the latest emission standard.
Discover more at www.melexis.com/MLX90824 and www.melexis.com/MLX90822, or contact us via sales@melexis.com.
---
Downloads